Races for Sunday 3rd May 2020
This year there will be a 1km, 3km, 5km, 10Km and relay race, click for more info. 
The 1km, 3km, 5km races will be held within the safe environment of the Redbourn leisure centre fields. There will be plenty of opportunities to support and cheer your friends & family members whilst they are en route.This makes it safe for both the runners and supporters.
Brand new for 2020 there will be a Redbourn Fun Run 10K which starts and finishes at the leisure centre whilst looping round the lanes of Redbourn.   
We are pleased to announce that both the 5km and 10km races will be chip timed this year.; each runner will receive their chip time and placing in the race.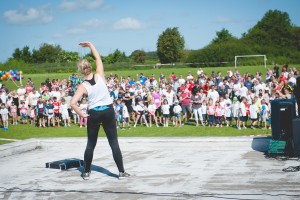 The information on routes and maps are coming soon.

The start and finish will be clearly marked by gantries.  The end of the race course will be clearly marked by a 'Party Box' balloon gantry.
There will be marshals situated along the course.
There is no age limit for any of the 1km, 3km and 5km races, as the aim is to take part and have fun. However, we ask any child under the age of 16 years running on their own to have the consent and supervision by an adult on the day.
The 10km minimal age is 12 years and all runners un der the age of 16 years will need to run with and adult.
There are no refreshments en route, so we advise runners to carry their own water bottle if they require, whilst running.  There will be drinks provided by Nisa Weyman and Sainsbury's at the end of each race.

St John's ambulance will be on site to provide first aid throughout the 4 races.

The first 100 kids (11 or under) to enter will receive a free Redbourn Fun Run T shirt.
No refreshments along the 1, 3  and 5km routes. There will be a water station during the 10k route
Every runner in the 1,3, 5 and 10km races will receive a bespoke RFR 2020 medal
There will be no road closures for the 10km race; it is your own responsibility to cross the roads safely; these points will be fully marshaled and will guide you across safely.  Most of the route is in the sage environment of the Nickey line, fields and pavements.
Fun-packed warm-up will be taken by Sarah Hudgell (for the 1,3 and 5km routes)
ENTER ONLINE -Opening in 2020
Online prices for the races are £6 for 1km, £9 for 3km, £11 for 5km, £16 for 10km and £12 for the relay.  This includes the nominal admin fee.